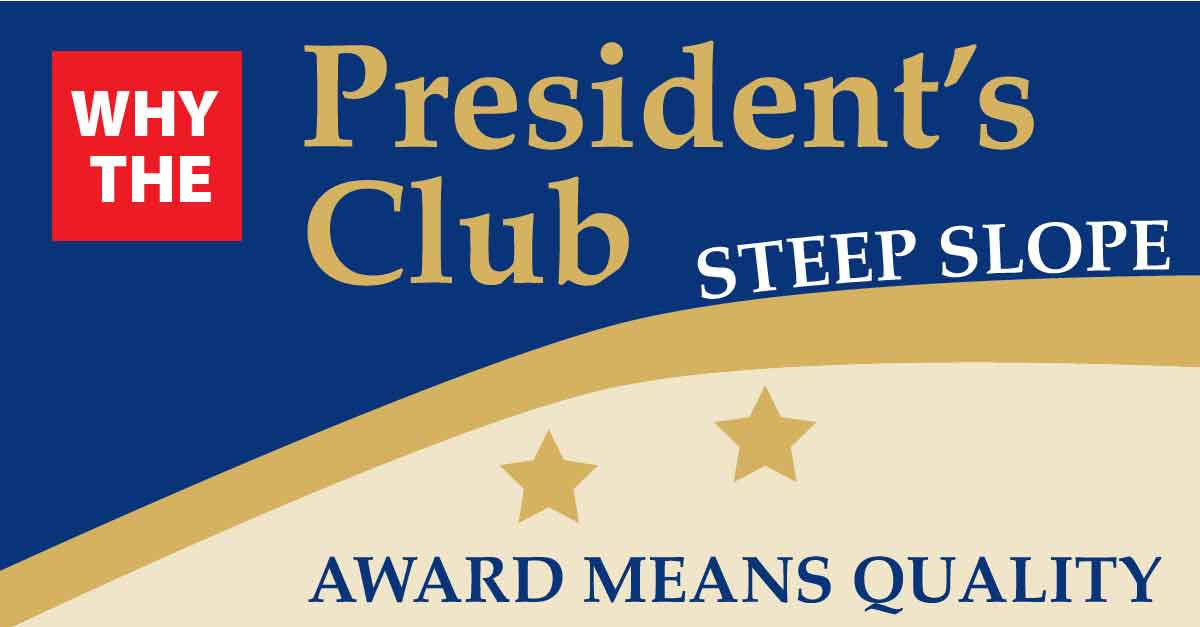 Most Palatine homeowners do not really care if their residential roofing contractor has won an award or received a certification, but they should. The assumption may be it is a self-congratulatory trophy. This is not the case with the GAF President's Club Steep Slope Award. The award, which Adams Roofing Professionals is proud to have earned, is actually a benefit to Palatine property owners.
Getting the Terms Straight
First, forget the insider's jargon; you need to know just what all the terms mean for this award. GAF is America's largest manufacturer of commercial and residential roofing materials. The President's Club refers only to contractors who have already reached the level of being a GAF Master Elite roofer (no small achievement in itself). A steep slope, or roof pitch, is typically found on residences. Steeper slopes are more challenging for a residential roofing crew to install.
Why You Should Care
The President's Club award for steep slope, residential roofing contractors is only given to Master Elite contractors in good standing. To qualify, the roofer must complete all the qualifying activities within a calendar year.
Qualifying follows one of three tracks, chosen by the roofing company itself:
Performance — The Performance pathway recognizes contractors participating in activities that focus on giving property owners (such as Adams Roofing Professionals' Palatine customers)the best possible service, quality and protection
Reliability — The Reliability pathway recognizes contractors with a long history of offering their customers the best quality and protection
Service — The Service pathway recognizes contractors who consistently offer their customers the best protection available in the marketplace
Star Power
Each earned pathway requires a commitment by a roofer to produce quality work, correct installations and neighborly support:
Service — The roofer installs roofs and registers owners' warranties above a specific dollar value within the year (demonstrating dedication to steady customer service)
Reliability — The residential roofing contractor must have at least seven consecutive years of installing GAF roofing and registering 10 Golden Pledge Limited Warranties in every year
Performance — The roofer installs roofs and registers 50 Golden Pledge Limited Warranties during the qualification period
No fly-by-night roofer will come close to these performance standards. Only a dedicated, full-time roofing contractor like Adams Roofing Professionals could even attempt them. When you want only the very best for your Palatine home's roof, you want Adams Roofing Professionals, earners of the GAF President's Club Steep Slope Award. Contact us today!