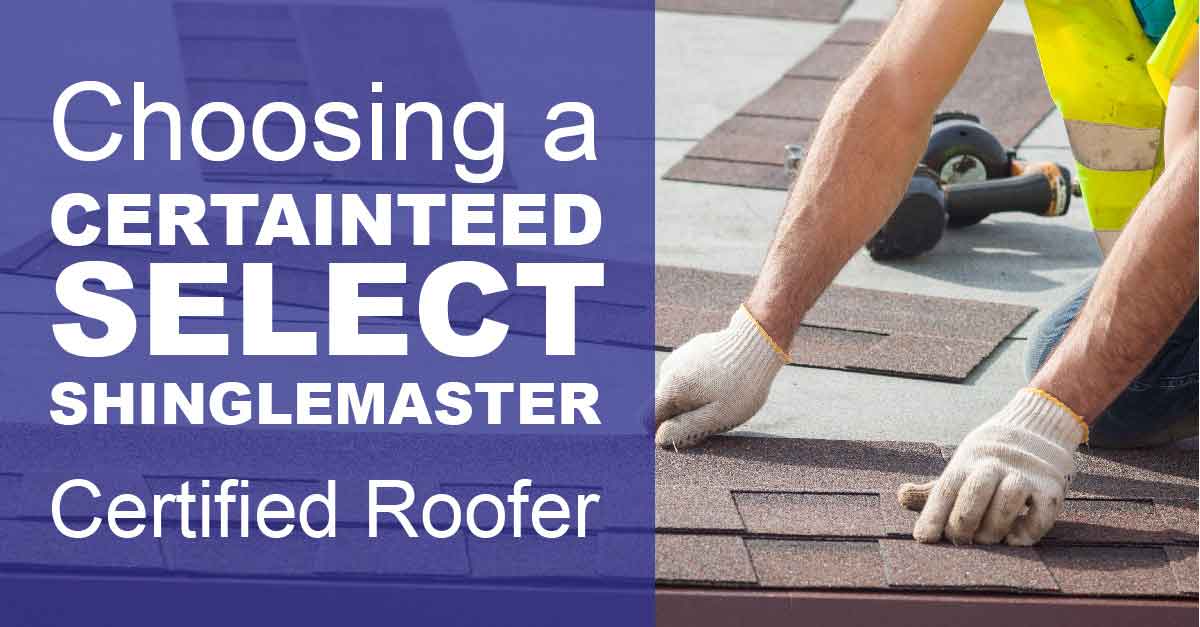 Most homeowners in and around Arlington Heights will replace their fiberglass-asphalt shingle roof once, possibly twice, in the time they own their homes. Selecting the right residential roofing contractor is vital since the roof can be expected to be in service twenty years or longer. Do your home and wallet a favor by choosing a CertainTeed SELECT ShingleMaster™ residential roofing contractor.
CertainTeed SELECT ShingleMaster™ Qualifications
To earn the CertainTeed SELECT ShingleMaster™ credential, a residential roofing company needs to adhere to rigorous demands from CertainTeed, a top national name in composite shingles. This designation, which Adams Roofing Professionals is proud to have, is only earned when a residential roofing contractor:
Demonstrates the highest standards of excellence
Demonstrates thorough knowledge of shingle roofing
Showcases quality installations of CertainTeed products
Passes CertainTeed's testing of shingle installation knowledge
Provides proof of workers' compensation and liability insurance to CertainTeed
In exchange for earning this important certification, your local residential roofing contractor is able to provide the absolute highest levels of warranties offered by CertainTeed, the SureStart PLUS™ extended warranty when your local roofing professional installs CertainTeed's Integrity Roof System.
Benefits to You
Your Arlington Heights neighbors may or may not be impressed you cared enough about your home to partner with a CertainTeed SELECT ShingleMaster™ roofer. That prestige is less important than the solid benefits you get working with a company like Adams Roofing Professionals as a credentialed CertainTeed SELECT ShingleMaster™ roofer. By demanding such high quality from its best contractors, CertainTeed protects you:
The roofer's insurance means you will never risk your investments, home or financial stability from a lawsuit stemming from the contractor or its employees
Sure knowledge of challenging installations means your roofer can easily handle your Arlington Heights home's roof
Expectations of the highest quality installation means you need not worry about loose shingles, overlooked flashing or missing drip cap, for example
Warranties
By choosing CertainTeed's top level of contractor credential, the Arlington Heights homeowner seizes the SureStart PLUS™ extended warranty, the top tier of CertainTeed's warranties:
Adams Roofing Professionals can offer 3-star, 4-star or 5-star coverage
Coverages can last as long as 50 years
Non-prorated coverage
Warranty includes materials and labor
Tear-off and disposal costs can be covered by the 4-star and 5-star warranties
By choosing Adams Roofing Professionals, you choose the very best. Contact us today so we can help make your home a showpiece for decades to come.