Summers can get hot in the Chicago area, which, at least for some, is a welcome break from long, cold winters.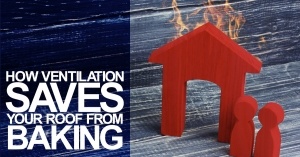 But while the heat may feel good and conjure up images of beaches and swimming pools, it can also wreak havoc on your roof if you're not prepared.
That's why having the proper ventilation – the kind that enables your home to "breathe" – will prevent roof damage and costly repairs. Here's a closer look:
Heat Damage on Your Roof
Excessive heat and lack of ventilation can cause a variety of damage to your home's roof, including:
Hot temperatures can cause essential parts of your roof, such as roofing joists and wood beams, to expand, while also damaging flashing – which allows water to seep into your home.
Heat can shrink shingles and cause them to blister.
Heat that rises from your attic or overhead crawl space can rise and also damage asphalt shingles. Blisters can shorten the lifespan of your shingle roof.
Without proper ventilation, heat can push down into your home and increase your cooling costs.
Excess humidity can cause moisture that damages the roof decking and shingles. In turn, mold can grow in the attic and spread throughout the house while exposing your family to harmful mold spores.
Mold and moisture may weaken plywood roof sheathing and cause the layers of plywood to separate. Both the sheathing and shingles may need to be replaced if the problem becomes severe.
How Ventilation Helps
Roof ventilation ensures proper air circulation while preventing condensation from building up under your roof. Your home's cooling system will also work more efficiently.
Types of Roof Vents
There are three types of vents that protect your home from the heat:
Ridge vents – Ridge vents ensure that the underneath of your roof is properly ventilated to prevent overheating and moisture buildup.
Roof vents – Roof vents prevent roof damage and premature aging by allow hot, moist air to exit the attic.
Intake vents – Intake vents maximize roof performance through effective air movement.
Adams Roofing has served the Chicago area since 1978 and will help make sure that your home's roof has the proper ventilation. Get in touch with us today.