When it comes to home improvements, choosing to install new gutters can make a major impact. This simple update alone can drastically improve the appearance and curb appeal of any Naperville home. By taking just a few key factors into consideration, such as the home's design, your budget, and the overall look you're trying to achieve, you can be sure that the final outcome is well worth the effort.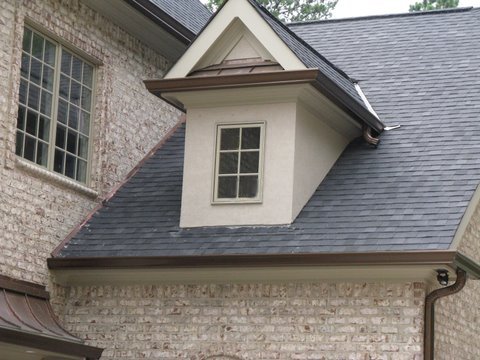 Choosing The Right Gutters For Your Home
When selecting a gutter system, it is important to find gutters that compliment the look and feel of your Naperville home. Choosing the right colors, and materials, to match your home's design is crucial when looking to obtain the best possible results.
Homes with vinyl siding often pair well with seamless gutter systems. Here at Adams Roofing Professionals, we install seamless gutter systems featuring a baked-on enamel design that come in a wide variety of colors. For a dramatic look, consider colors that contrast nicely against your home's siding. If you prefer a more uniform appearance, this look can also be achieved by matching your new gutters to your home's current siding color.
When choosing a gutter system for a brick home, consider choosing copper gutters for an aesthetically pleasing result. Copper gutters tend to add character to a home and their classy and dignified appearance can't be replicated with other traditional gutter systems.
An Additional Touch With Rain Chains
Rain chains are an attractive alternative to traditional closed gutter downspouts thanks to their creative design and pleasant sound. Rain chains consist of chains or cups that guide rain water downwards, while also giving off a pleasant and relaxing sound that can vary based on their unique design.
With a wide range of rain chains to choose from, you can easily achieve the customized look and sound you're after.  But, be sure to check first with your local roofing company on the best way to install your new rain chain, so you don't cause damage to your existing gutters.
Choosing Adams Roofing
Another option for your gutters, is to have Adams Roofing install Raindrop Gutter Guards to protect your gutters and keep debris out of them. Maintenance-free and self-cleaning they have also been designed to prevent ice dams, which is ideal for the Naperville area.
Here at Adams Roofing Professionals, we install only the highest quality gutter systems available in today's market. We offer Naperville residents a wide selection of gutter systems to choose from and, since we form our gutters on location, you can be sure that your gutters will be designed to match your home's unique specifications.
Contact Adams Roofing Professionals today to learn more about our seamless gutter systems.