Winter is here. You need a new roof. Maybe you could get the job done this winter. Consider though, is winter a good time to reroof your home?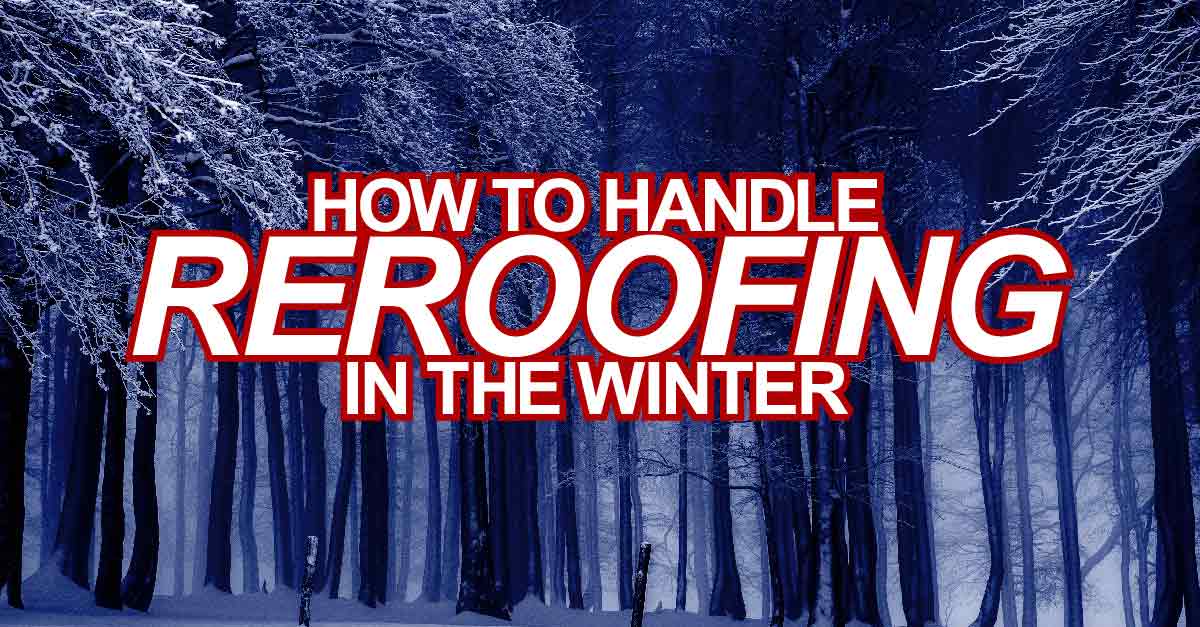 Why Would You Need to Reroof in Winter
The idea of putting on a new roof in winter seems odd. Why would you strip off your home's main protection from snow and ice in the middle part of winter?
You sustain damage. Trees fall, branches break, and the wind blows. All of these can cause damage to your roof.
A major leak starts. A minor leak might only need a patch. A major leak, however, may require an entire section of the roof to be replaced.
Contractors aren't busy. To avoid the spring and summer rush on roofing replacements, why not have it done in winter?
The Challenges of Doing Roofing Work in Winter
It isn't easy to do any type of roofing work in winter, especially when you are talking replacement.
It is cold. Temperatures during the day tend to run in the 30s but can easily drop much lower. This can be brutal to people working outdoors. Roofing crews cannot wear heavy boots or gloves because they need the dexterity of their hands and feet. This causes them to work slower in the winter.
It is windy. Winds make the cold feel even colder. Plus, strong gusts of wind can be dangerous for someone working on an exposed roof. Extra safety precautions are required to prevent someone from being blown off. Many roofers will wait until a calmer day to do any roofing work.
It is snowy and icy. Before any roofing work can be done, the snow and ice have to go. This means starting everyday ice breaking and snow shoveling. This can be back-breaking work which is very tiring, making the entire day seem longer for everyone.
Equipment can malfunction. The pressure used to power nail guns also melts frozen moisture in the system. As the pressure goes out of the compressor towards the nailer, the moisture can refreeze, which causes issues with nail gun performance.
Roofing materials to be hard to work with. Asphalt shingles become less flexible as temperatures drop. This can make them more difficult to cut and harder to nail properly. Also, the cold will interfere with the shingles ability to seal with each other. To keep the new roof from leaking, the roofer may have to apply roof adhesive between shingles until it is warm enough for the seal to activate on its own.
Can You Reroof in the Winter?
Yes, you can reroof during the winter. Ideally, waiting until warmer weather to have your roof replaced is preferred. However, if you cannot wait or want to get the job done before the spring and summer busy season hit, here are a few things you need to keep in mind.
It's crucial you hire a roofer who has experience doing a roof replacement during winter. There are many little things which will make a difference in whether the replacement is successful or not. For example, the roofing crew will need to know how to make appropriate adjustments to tools. They must work effectively in cold weather without damaging the shingles.
If you hire a roofer who is not experienced with working on a roof replacement in winter, you may find yourself with major repairs to your roof in just a few months.
You may be wondering, "Can I reroof my house in sections?" It's likely the roofer will need to do the roof a section at a time. This means taking the old roofing off one part of the roof, drying the deck, making repairs, and then putting on tar paper and shingles. Then the crew moves on to the next section. All of this will be done on warmer days when the weather is projected to be clear of rain and snow.
The job will take longer than if you did it in warmer weather. This can mean more labor charges. However, when it has to be done, it has to be done.
No matter what time of year you need to do a roof replacement, you need to work with an experienced company. Call Adams Roofing Professionals today for any roofing need you might have, including reroofing in winter.