Commercial roofing in Chicago must endure a lot of weathering, from intense summer sun to snowy winter storms. The roof is the building?s first line of defense against the elements, so business owners should be prepared to check out their roofs regularly.
Inspecting and working on roofs can be dangerous work. Know the best practices for safely getting up on a roof and inspecting the conditions, and be aware of what a roofing contractor should be doing to ensure worker and property safety at all times.
Good Safety Practices When Inspecting Your Roof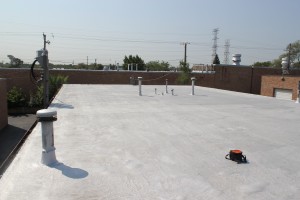 When you?re going to check out your roof, don?t just grab a ladder and try to be brave. In addition to the hazards of climbing up in the air, you also need to know how to safely get around while inspecting commercial roofing:
Ladders should be positioned out of walkways. Use caution tape to mark the area.
The top of the ladder should rise a few feet above the roof for stability.
Don't climb a ladder or go up on a roof alone.
Don?t carry too much when going up and down a ladder.
Wear a helmet. Falls are the most dangerous aspect of roofing.
Wear work gloves and knee pads. Avoid sitting on or touching a roof that hasn?t been swept, as there could be nails and sharp debris.
Wear boots with good traction and a protective outsole.
Do not walk on parts of the roof that may be damaged.
Expect Safety from your Commercial Roofing Contractor
When you work with a commercial roofing contractor, discuss the company?s safety practices and know what to look for. A contractor who puts employees in danger may be cutting other corners, too, and you don?t want the nightmare of a bad accident at your place of work.
Safe practices for roofers include:
Safety harnesses worn by all workers on the roof
Hard hats worn around the worksite
Guardrails installed where necessary
Tool belts to keep hands free
Cleaning the worksite with a nail sweeper
With the extremes of Chicago weather, you need regular roof inspections so, when you do it yourself, take the time to follow safe practices. When you bring in commercial roofing contractors, expect them to follow the appropriate regulations and guidelines and be sure you know what to look for in a safe worksite.
When you need roof repair or replacement you want things to go smoothly, so you will want commercial roofing work to be done by trusted professionals in the Chicago roofing industry, like Adams Roofing.
Contact Adams Roofing Professionals when you want a commercial roof replacement or repairs done by a company where safety is a top priority.