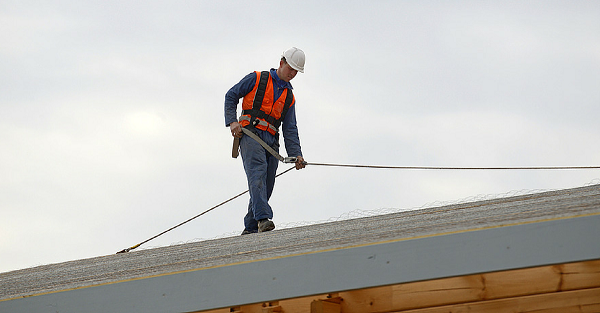 Chicagoland is more than 10,850 square miles in area. Within that vast region, finding qualified, local roofers should be easy. Yet some Palatine residents still call on us to fix a roof that a storm-chaser already "repaired." We politely go about our business of repairing the "repair," and wonder why people do not choose local roofers in the first place. For our area, local roofers offer the best combination of credentials, service, integrity and community.
Storm-Chasers
The roofing industry can be a wild and woolly world. Dedicated, well trained contractor crews may be working nearly side by side with fly-by-night operators who hire unskilled labor, swoop in, take your money and disappear.
Called storm-chasers for their tendency to appear after major windstorms or hail damage, these scam artists prey on desperate homeowners.
Storm-chasers slap together roofs that usually last a quarter of the industry average lifespan, needing replacement within five to seven years of installation.
Local Roofers are Superior
Palatine homeowners interested in high quality, weather-tight roofing should turn to local, dedicated roofers for four reasons:
Credentials—Palatine, Illinois residents who turn to us can look up our license number, 104001529, and see we have been licensed as a roofing contractor in Illinois since May 13, 1986.
Service—Rarely, we get a callback to tend to some minor cosmetic issue. We are always happy to help, because service for our customers means our job is only complete when you are completely satisfied. Whether you have a question about your ridge vent or see a popped nail on a drip edge, we will answer your call.
Integrity—We live and work in your neighborhood, so we know we are judged by our product every day. You can find our work all around you, ask neighbors about our crews, and see for yourself the quality and integrity we put into every job.
Community—As local roofers, we are part of your community, and proud to be members of the Better Business Bureau, Angie's List, many area Chambers of Commerce, and professional organizations. We know Palatine, Elk Grove Village, and the surrounding community – and the community knows us.
Ask!
Ask prospective roofers for their Illinois license number, local telephone number and local business office address. If you do not like the answers you hear, turn them away and turn to local roofers you can trust.
Contact Adams Roofing for help with your roofing and exterior needs.