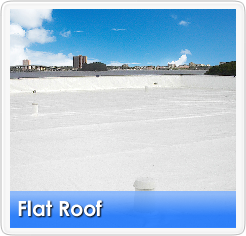 Flat-roofed commercial buildings that abound in the Chicago area require special handling and the installation of a roof that can stand up to continual tests of its integrity, such as accumulated snow, rain, insistent and perpetual UV rays from the sun, and time. Commercial roofs take a constant beating from all of the above, making the roofing material of choice for many Chicago commercial roofs durable, resistant modified bitumen.
.
Modified Bitumen Revealed
Just what a modified bitumen roof consists of may be a mystery to many business owners. Here's a quick look at what defines this type of roof:
Polymer modified bitumen (asphalt) membrane
Non-woven mat containing a polyester reinforced core
Coated in fine mineral granules, usually white
Designed for flat or low-slope roofs
Resistant to cold-temperature brittleness
Resilient, elastic and battles high-temperatures well
.
The Importance of Maintaining a Modified Bitumen Roof
Because a flat roof is particularly susceptible to rainwater that pools on uneven roof sections or near A/C shrouds and ventilation units, it's vital that the installation of a modified bitumen roof is performed by a qualified roofing contractor who's familiar with all the ins and outs of this specialized commercial roofing material. Maintenance is then crucial to its longevity.
Unless you or employees know exactly what you're looking for during an inspection of your modified bitumen roof, it's best to call in a qualified roofing pro. Walking on a flat roof, or any roof for that matter, requires know-how so that the inspection process doesn't do damage to a perfectly good roof. What to look for and maintenance tasks to complete include:
Checking roof-edge flashing from the ground for any irregularities
Examining the roof for sunken areas, or areas that feel springy or spongy underfoot
Inspecting the modified bitumen membrane for wrinkles, blisters, splits, punctures, sections that slide or move, and overlapped areas that have pulled away from each other, indicating adhesion problems
Scanning ventilation units for grease or grime build-up
Removing broken branches, leaves or other potentially damaging debris
Identifying areas where rainwater pools or ponds
.
Schedule a modified bitumen roof inspection at least twice a year, and certainly after any storms that pass through the Chicago area. Proper inspection of your flat roof will save time and expensive repairs in the long run.
Adams Roofing Professionals prides itself on providing unmatched customer service. Contact us to schedule a roof inspection or to receive more information on modified bitumen roofing.