When you're a property manager, ensuring the roof of your building remains in good condition at all times is highly important.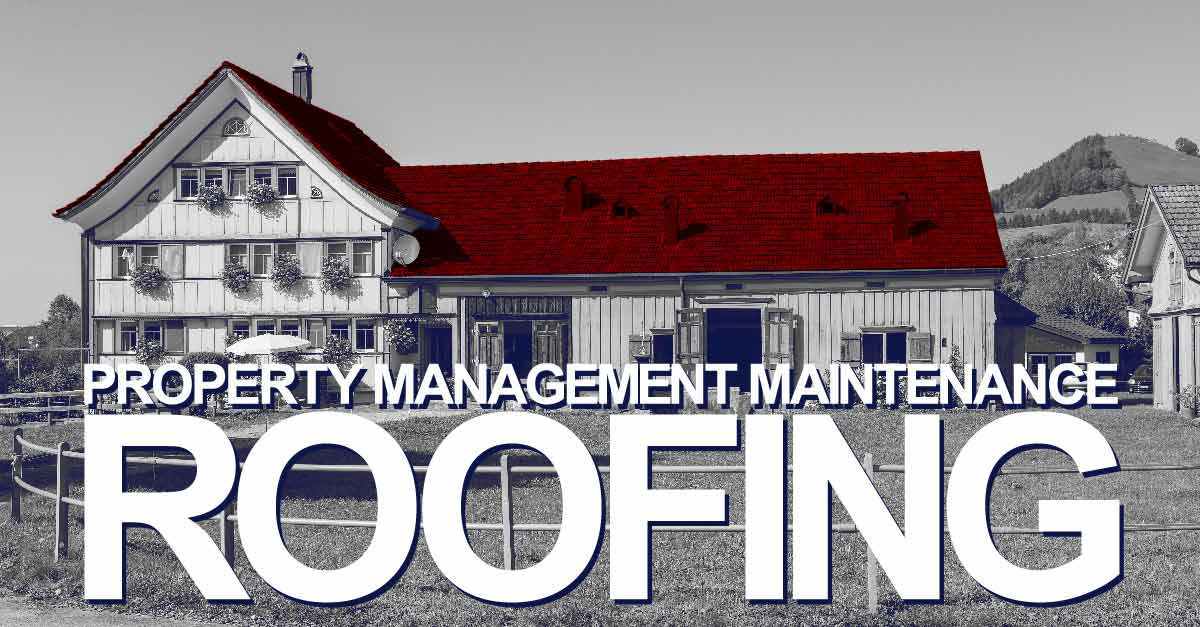 You might not be able to tell whether or not your roof has any issues until more serious ones develop. In order to keep your tenants safe and your building protected from the elements, you should consider having regular roof maintenance done.
Importance of Roof Maintenance
The roof on your property is exposed to the sun's UV rays as well as wind, rain, snow, and ice. This can cause it to end up with a considerable amount of wear and tear over the years. When you go without routine maintenance, minor problems which occur with roofs can turn into much bigger ones. This could put your tenants at risk and cost you a lot of money to fix. Scheduling routine maintenance for your roof helps ensure you catch these problems early and can have them repaired right away.
Long-Term Benefits
Having roof maintenance done on your property is an investment which pays off over time. Roof maintenance involves having minor issues taken care of before they are able to become costly ones. When professional roofers come to do maintenance on your roof, they can also remove debris which could affect its performance or lead to damage. Instead of spending a significant amount of money on roof repairs or having to replace the entire roof, you'll save money with routine maintenance. When your building's roof is taken care of you can expect it to last longer, which means you can wait longer before replacing the whole roof.
Tenant Safety
Keeping the roof of your building in good shape helps ensure your tenants are protected from the elements. A roof in excellent condition also reduces the risk of leaks which could result in damage to tenants' personal property. When you have maintenance done on a regular basis it also lowers the risk of mold growth, which can affect your tenants' health and well-being. Investing in roof maintenance may also mean your tenants will be more likely to continue renting from you.
If you're ready to schedule roof maintenance for your building in Elk Grove, please contact Adams Roofing Professionals. Our roofing professionals can make sure that your roof stays in good condition over the years.
---
Some property owners and managers don't think keeping up the exterior of a property is important, which is a mistake. It is one of the most important duties of a property manager. Let's look at why.
Why Is External Maintenance Critical?
Think of the exterior of a rental property as an open advertisement. If the exterior is in good condition a renter will be more willing to live at that address. Exterior maintenance is also important because it maintains the value of the property. Rental properties are investments for their owners, and having a nice exterior can mean more profit to both the owner and its management company. To keep the property's value up, maintenance is absolutely necessary.
Yes, Maintenance Costs Money
Short-sighted property managers think they are maximizing profits by not doing necessary maintenance. Actually, they are setting up the management company and the property owner for a major financial outlay in the future.
Maintenance helps to keep minor issues from becoming major problems. For example, repairing a minor leak in the roof will prevent major water damage from occurring. If the leak isn't repaired, the resulting water damage could end up causing enough damage to require the entire roof to be rebuilt, in addition to other property damage.
Doing maintenance now does cost money. However, compared to the cost of repairing major damage down the road it can actually be a way to save money in the long run.
Regular maintenance also has the added benefit of keeping tenants long-term. The biggest reason tenants move out is because the landlord fails to do maintenance. Keeping tenants long-term means a steady source of income and eliminates the need to advertise and screen potential renters.
How Does Exterior Maintenance Help the Tenants?
Maintenance is not only good for the property. It is good for the tenants as well.
It shows tenants that you care.
It prevents the growth of mold, which can be hazardous to tenant health.
It keeps leaks from occurring, causing tenant discomfort and annoyance.
It gives tenants a neat, comfortable place to host family and friends.
If you need assistance with property maintenance, contact Adams Roofing Professionals today. Our dependable team will help you complete your property maintenance needs in a timely manner.