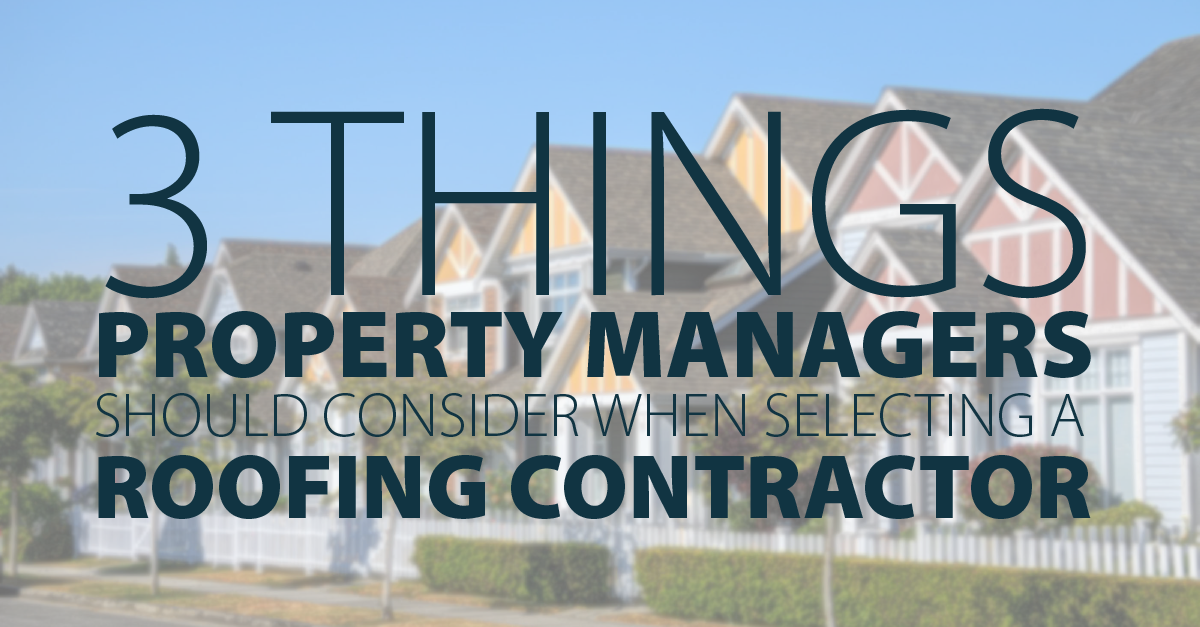 As a property manager, it's important to be mindful of the broad differences that exist in industry credentials, customer service and project management experience from one roofing contractor to the next. Though, differences in business best practices exists across many industries, few business relationships bear the responsibility of protecting your assets like your roofing company.
Ultimately, your business relationship and roofing services, whether routine roofing repairs or long-term project management, will only be as sound as the contractor you choose. Following are three criteria to review when it's time for you to select a roofing contractor.
1. Contractor Credentials
For the protection of your company's assets and to protect you from liability, it's imperative to check the credentials of roofing contractors you are interviewing. Use the following tips and criteria to confirm the company you hire is properly credentialed:
License and insurance: Your roofing contractor should be legally licensed for home improvement projects and general contractor services. Companies making alterations, improvements or additions to properties that are primarily residences within Chicago city limits must carry a BACP-issued home repair license and no less than $300,000 liability insurance.
Affiliations and awards: Your contractor should be active in industry memberships. Look for roofers that are associated, members or received awards and special designations from ACTHA Association of Condominium Town Homes and Home Owners Association, Chicago Roofing Contractors Association, BBB, National Roofing Contractors Association and GAF Master-Elite Roofer.
References: Ask for several references that relate to the property management services you need. You may also check reference resources available online, such as Yelp, Angie's List and Facebook.
2. Quality Services
Ask prospective roofing contractors if they use subcontractors or temporary day-labor workers. Part of your long-term solution strategy for hiring contractors should include security and reliability. You will have neither if your contractor isn't up to the task of providing permanent employees to work at your properties.
Additionally, look for a roofing contractor with longevity in the greater Chicago area that completes all jobs in-house.
3. Dedicated Contact
Clear communication is important for any company — especially a property management company that must itself communicate with its residents on a continual basis. Expect truly personalized customer service from the roofing contractor you work with. Need emergency repairs? Permits pulled? Itemized estimates, orders and billing? Then, you need our dedicated customer service.
If you are in need of a reliable and credentialed roofing contractor for your property management company or HOA, please contact us.