When it comes to the siding of your Elk Grove Village home, you should always go for quality. The siding of your home not only affects the curb appeal, it also acts as the first layer of protection for your home?s structure, which is why Adams Roofing Professionals suggests the installation of vinyl siding. We specialize in installing high quality vinyl siding. In fact, we have been providing top notch customer service and workmanship for residents of Elk Grove Village since 1978.
The Vinyl Siding Options We Offer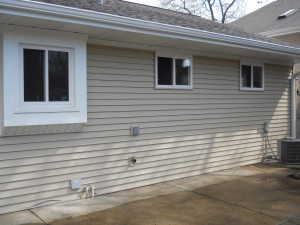 The siding makes up a huge visual component of your home, which means choosing the right style and color is of utmost importance. Vinyl siding happens to be one of the most durable and cost effective options available. For that reason, here at Adams Roofing Professionals, we offer a wide variety of different vinyl siding options:
Insulated Siding ? Insulated siding options come in longer flat faces that provide both toughness and sustainability. In fact, insulated siding will provide significant insulation values, thereby helping you to save energy throughout your home. This siding will help keep energy from leaking out, which means you?ll be saving money over the long term on your energy bills.
Traditional Lap Siding ? This siding option is easy to install and boasts simple lines, making it one of the more popular vinyl cladding amongst homeowners today. The lap panels come in different sizes and a number of different colors are available.
Vertical Siding ? There are several different profiles and dimensions available for this type of siding. Homeowners often use vertical siding as a design feature or accent element on their home, such as for entryways or porch walls, due to the powerful focal point that vertical lines provide.
Shakes and Shingles ? For a more traditional look, shakes and shingles are a great option. These siding options allow you to provide your home with the traditional beautiful look of wood without having to deal with wood?s drawbacks, such as rot. Real wood siding often requires a lot of maintenance as well, something you won?t have to worry about with these shakes and shingles.
These are just a sampling of the siding options that Adams Roofing offers to residents of the Elk Grove Village area. We provide a number of high quality siding from several different vendors that include Mastic Home Exteriors, CertainTeed, CraneSiding, Royal Siding, James Hardle and Norandex.
Adams Roofing has years of experience installing vinyl siding. Our knowledge and guaranteed workmanship and quality make us the company to call when you are thinking of new siding for your Elk Grove Village home. Contact the experts at Adams Roofing Professionals.