If you have been putting off winterizing your Arlington Heights home, you might want to reconsider. Even though winter does not officially start for a while, cold temperatures and even snow could show up sooner than we like. Here are some effective ways to prevent heat loss and get your home ready for winter.
Fill in the Cracks
Take a close look around your doors and windows to see if there are any cracks that could let cold air in and hot air out. If you find any, seal them up with caulking. If it has been a while since you last caulked your doors and windows, give them some fresh caulking to make sure they are well-sealed, even if you don't see any cracks. You can also install weatherstripping around your doors and windows to make the edges even more airtight.
Check for Other Heat Loss Culprits
Your doors and windows aren't the only areas where cold air leaks in or heated air leaks out. This can also happen with wall outlets and light switches. If the edges of these fixtures feel colder, seal them up with foam gaskets from your local hardware store in Arlington Heights.
If you have a fireplace, make sure you keep the damper and glass doors closed when not in use. Otherwise, you could lose quite a bit of heat up the chimney.
Wrap Up Your Water Tank
Cover your water tank with a heat-retentive jacket that prevents heat loss and lowers your energy bills. You might even be able to put a double jacket around the tank if you have enough room. These jackets help keep your water tank warm, so it requires less energy to heat up.
Hang Up the Drapes
For a simple and cost-effective way to winterize your home, switch from light curtains to heavier drapes, which help keep drafts out. The heavier material keeps the room heated by absorbing sunlight and stopping cold outdoor temperatures from getting in.
Improve Your Insulation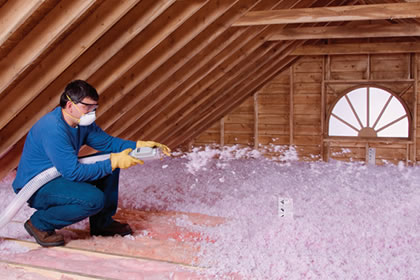 Having high-quality attic insulation, and plenty of it, will help prevent hot air from escaping your home as well as keep cold air out. Adams Roofing Professionals can install insulation such as AttiCat Loose Fill in your attic to ensure that the winter weather is kept outside. This blown-in insulation maintains its energy-saving ability for years, helping you save a lot in heating costs.
For more information on insulating your Arlington Heights home wth AttiCat insulation, contact Adams Roofing Professionals. Adams Roofing is an award-winning and trusted name in roofing that you can depend on for all your roofing and exterior needs.