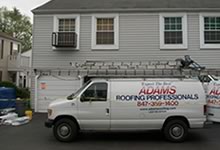 Adams Roofing Professionals in Arlington Heights, IL, are proud to use GAF roofing products. GAF has set a high standard in the roofing business for the quality of their roofing products, which has led to numerous awards and distinctions, including the Women?s Choice Award.
The Women?s Choice Award
The Women?s Choice Award, provided by WomenCertified?, is given to brands that are trusted by women when making purchases for their homes as well as families. The companies that receive this award are considered progressive brands that also help to empower women in their communities as well as on a global level by raising the standard for customer experience. The President and CEO of GAF responded to the award with incredible appreciation and with the promise to continue with their commitment to female customers in providing value, choice and quality.
GAF Roofing
GAF was founded in 1886 and has since become the largest commercial and residential roofing manufacturer in North America. Unlike other roofing companies, which often use a one-technology-fits-all motto, GAF works closely with each roofer to match the right roofing technology to the specific needs of the client.

Adams Roofing Professionals
Adams Roofing Professionals has developed a strong reputation in the Arlington Heights community. Since our establishment in 1978 as a roofing contractor, we strive to provide exceptional customer service and workmanship. This is because we only use the highest quality roofing products to ensure that all roof repairs and replacements will last as long as possible. One of the reasons we use GAF roofing products is because GAF has the distinction of having some of the best roofing products available in North America.
Of course, using the best products is not going to be effective if they are not installed properly. This is why Adams Roofing makes sure that each of roofer is expertly trained. In fact, we have received the GAF Certified Green Roofer Award and the GAF Master Elite? Award as recognition of the high standards that we set for ourselves when it comes to roof repairs and installations.
When looking for a roofer, it?s important to look at their service reputation as well as the quality of the products they use. Here at Adams Roofing Professionals, we have a sterling reputation in Arlington Heights and use only the best roofing products, including those manufactured by GAF.
Adams Roofing Professionals, a GAF Master Elite? Contractor, is the company to call when you need a new roof for your Arlington Heights home.